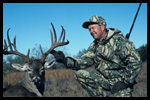 Bob Zaiglin serves as Department Chair and coordinator of the wildlife management program at Southwest Texas Junior College in Uvalde, Texas. He is also the owner of Zaiglin's Wildlife Resource Management, a highly successful consulting firm for discriminating land stewards. As a private lands wildlife biologist over the last 31 years, he has implemented management programs on more than one million acres in Texas.
Zaiglin is one of the most recognized and respected whitetail deer biologists in Texas. A certified wildlife biologist, he holds a B.S. in Wildlife Science and an M.S. in Range and Wildlife Management. His management programs have been recognized as some of the most successful in the country.
In 1985 he was awarded Texas Conservationist of the Year by the Texas Game Warden's Association for his work with underprivileged youth hunting activities. He also received the Col. Jimmy Doolittle Award from the Buckmasters American Deer Foundation in 2002.
Zaiglin is also an official scorer for the Boone and Crockett Club, as well as Whitetail Deer Editor for Texas Outdoors Journal. He is also a contributing editor for several other hunting publications. His publications on deer and deer management have been recognized as one of the reasons deer management is what it is in Texas today. His photographic skills have also been widely recognized.
Most recently Zaiglin coauthored Whitetail Advantage with Dr Dave Samuel, a new and stimulating look at deer and deer hunting based on scientific facts.
As a hunter, Zaiglin has taken two whitetails and one stone sheep that have been recognized in the Boone and Crockett all-time record book. More importantly, Bob enjoys fond memories of hunting with his daughters Beth and Nan as they grew up on the ranches he managed.
Bob resides in Uvalde with his wife of 28 years, Jan.