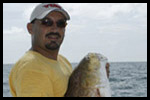 A native Texan, Danno Wise has spent a lifetime fishing both fresh and saltwater across Texas and the Southeastern United States. Over the years, he has spent time on the water in every bay system and most every major reservoir in the Lone Star State, as well as various smaller bodies of water. In 1994 Wise relocated from the Upper Texas Coast to the Lower Texas Coast. Since then, he has spent time guiding anglers on the Lower Laguna Madre, as well as working as an outdoor writer, artist, and photographer.
Wise is TEXAS OUTDOORS JOURNAL's contributing South Texas editor. He also is the illustrator for TOJ's monthly Tackle Tips series. His work has appeared in numerous local, state, regional and national publications. Additionally, he conducts a variety of fishing seminars and classes each year.
Wise lives in Port Isabel with his wife, Marisa, and their two children, Marina and Dagan.