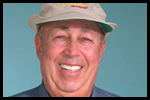 An award-winning writer, photographer, radio personality, and television host, Mark Sosin has an impressive list of credits that span virtually all phases of outdoor communications. He is the Executive Producer and on-camera host of Mark Sosin's Saltwater Journal, now in its 26th season, broadcast currently on Fox Sports Net as well as the Armed Forces Television Network. More than 3,000 of his articles have been published in major magazines and he just finished his 30th book.
Considered a leading educator and one of America's most knowledgeable fishing authorities, Mark Sosin teaches outdoor techniques through lectures and seminars, serves as a consultant to national companies, is an advisor to the International Game Fish Association, and shares his expertise with government agencies and conservation groups. He is a Director Emeritus of The Billfish Foundation and a former Trustee of the University of Florida's Whitney Lab.
A Past President of the Outdoor Writers Association of America and recipient of its coveted Excellence In Craft Award as well as its prestigious Ham Brown Award, Sosin holds membership in the Southeastern Outdoor Press Association, and Florida Outdoor Writers Association where he received their Lifetime Achievement Award. He has been inducted into the Fresh Water Fishing Hall of Fame and has been enshrined in the International Game Fish Association Fishing Hall of Fame.