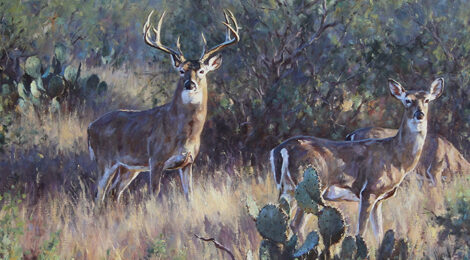 One of the reasons wildlife and sporting art is so popular and widely collected is it reminds us of a moment in time we've been.  Such is the case of this month's cover art that is most appropriately titled, "South Texas Somewhere" by talented Texas artist Brian Grimm.
A whitetail buck has been trailing a couple of doe as the rut in the Brush County is underway.  It's procreation time and when a doe comes in estrus, and receptive to breeding, the life cycle of the specie continues.
One doe continues foraging in the background but the buck and other doe have that locked-on look at the viewer of "where did you come from," or "what's that?"  The response to an intrusion or unnatural sound presents a momentary standoff.  Will the deer bolt and run or continue to try and figure out if there is a threat.
The cactus, mesquite, brush and whitetail's response are one countless numbers of hunters have experienced because it is certainly set in "South Texas Somewhere.  Every time it's viewed it's a reminder of where we've been and what we've seen.
For more information on "South Texas Somewhere," availability of a giclee or to inquire about other fine works of art or commissions by Brian Grimm, visit www.briangrimmart.com, email BrianGrimmArt@gmail.com or call (830) 456-6809.  — Bill L. Olson
************************************************************************
To read more, click here to SUBSCRIBE