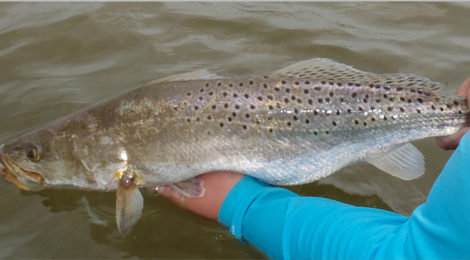 Go slow and low while fishing proven hot-spots for big specks.
Story and Photography by Robert Sloan
The first time I used one of Paul Brown's Corky lures I could not have been more disappointed. It was very similar to fishing a worm for largemouth bass – low and slow and boring. But it didn't take long for me to see the light. After that first thump, a hook set and bringing to hand about a four pound trout I was sold.
Not long after that I was fishing with guide Dwayne Lowrey on the upper end of Sabine Lake near Stewts Island, just off the Intra-Coastal Waterway. We were on a long flat, about four feet deep, that was covered with clam shells and mud. It was where the trout wanted to feed because mullet were all over the place. The tide has just started to come in and it was game on. Just about every cast with one of the original Corky's was smacked by a solid trout, most of which were in the three to five pound class. We were both fishing a Corky in a pearl/chartreuse color pattern. We ended up on that wade with two heavy stringers of trout to seven pounds.
The state record rod and reel trout, weighing 13 pounds 11 ounces, and measured 38 1/8 inches long, was caught on a Corky by Jim Wallace while fishing Baffin Bay on February 6, 1996. That set the pace for the sale of thousands of Corky's. But long before that catch the trend of fishing slow sinking mullet imitation plugs was the way to go during the winter and early spring just about anywhere along the Texas coast.
The Mirrolure 52M series was a killer bait back in the 70's and 80's. There is no telling how many of these lures were sold. It was a simple design made of hard plastic and was 5-5/8 inches long. It weighed a half ounce and was a slow sinker. This plug would catch trout year-round, and was a favorite in the surf.
It was a deadly mullet imitation on East Galveston Bay, East Matagorda Bay, Baffin and the lower Laguna Madre. Some of the top color combinations were, and still are, hot pink back/yellow belly with silver sides, chartreuse back/pearl belly silver sides, green back/white belly/silver sides and red head/white back and belly with silver sides.