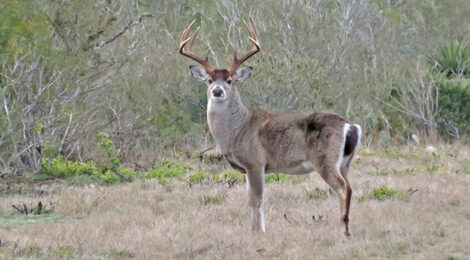 TOJ's Annual Forecast of Whitetail, Mule Deer, Pronghorn, Quail and other Game Animals along with the latest from-the-field information.
Story by Bill L. Olson
Photography by John Frankson
It's always about weather and its impact to range conditions.  While conditions can vary across the Lone Star State, this year it doesn't seem like anyone escaped the drought or brutal heat.
Despite the knowns, many times it's the unknowns that offer glimmers of hope of what if conditions turn more favorable.  In times like these, Texas wildlife and her diverse landscape show just how tough and resilient they are to harsh conditions.  Plus, this is not the first time severe conditions have been endured.
The following is the latest updated, detailed reports from all eight Districts across the Lone Star State as to range conditions and animals hunters might see this hunt season.
REGION 1, DISTRICT 1, Trans-Pecos (West Texas)
For the 2023 hunting forecast Alpine based District Leader Mike Janis' reports said, "Like much of Texas, the Trans-Pecos has been in drought conditions this year.  However, unlike the previous two years, much of the Trans-Pecos received a fair amount of moisture this past winter/spring, with the be best event being several inches of snow in March.  This translated into good spring forb production that benefitted wildlife.  The exception is El Paso and Hudspeth Counties which remain dry.
"Record heat in June and July may take a toll, but spotty thunderstorms have been helping those areas that receive them.  If the monsoons continue to develop, this could be a decent year."
Tropical Storm Harold move inland in South Texas, then right up the Rio Grande River.  A number of areas of the Trans-Pecos received some rainfall.
Janis report provided specie specific assessments in advance of this hunting season.  The report state:
************************************************************************
To read more, click here to SUBSCRIBE