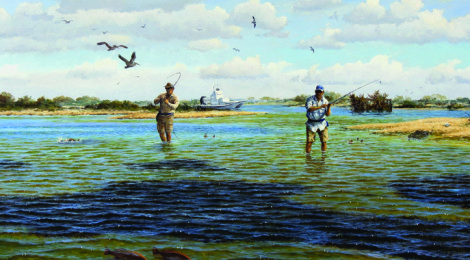 The name of this original is "Nueces Bay," however, it could also represent any number of other locals on the Texas coast in August.  This month's cover art painted by popular Texas artist David Drinkard depicts a setting many anglers will experience over the next weeks and months as redfish activity increases.  It may be along some shallow shoreline or a grassy pocket that holds these fish.  The depth may be equally varied from shin deep but no deeper than one's waist.
In August redfish begin to join up creating schools that roam Texas waters before the really big ones head to the Gulf.  The pursuit of red drum can be enjoyed by oneself, or with a few friends.
Early and late is when the action gets up close and personal as a topwater lure, a spoon, or some plastic tail entices a red to eat — then it is "game on" between angler and his quarry.
For more information on "Nueces Bay" or other fine works of art by David Drinkard visit www.daviddrinkardart.com or call (409) 504-8810.