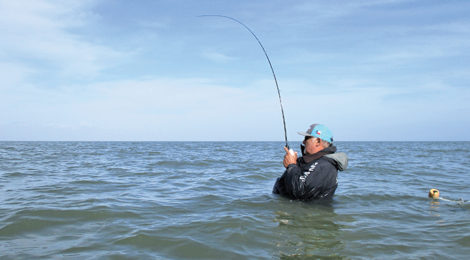 Either side of this coastal community there are shell reefs, islands and miles of shoreline flats to wade.
Story and photography by Robert Sloan
We had a cold front moving across Texas and it was due to hit Port O'Connor in about three hours. That give Mike Barnes and me a good two-hour window to get in a couple more hours of what had been and excellent trout bite the day before.
We left Clarks boat dock at 8 a.m., and headed straight to Grass Island via Little Mary's Cut, then Mitchell's Cut and through Saluria Bayou. The south side of Grass Island is perfect for a winter wade. It's a trout fishing hot spot and is fairly easy wading, as long as you don't get too close to the shoreline where the bottom tends to get a little muddy and soft.
We slid over the side of the boat and into about three feet of water. I had tied on a One Knocker Super Spook in gold and pink. Barnes started out with a green/red flake Assassin. We hadn't been fishing more than about 15 minutes when Barnes hooked up with about a four pound trout. And that more or less set up and excellent bite for about an hour. We had several trout and one red.
When the Grass Island bite played out we got in the boat and moved a few hundred yards to Whitaker's Flats. That's a well-known winter fishing hot spot in POC. The flats drop off into a channel, and right along that drop is where we finished up with limits of solid trout and three reds before the north wind wrecked the whole area and forced us to head back to the dock. But that's the way it goes in late winter along the Texas coast.
The very unique thing about fishing out of Port O'Connor and the nearby town of Seadrift is there all kinds of fishing options. There are dozens of shell reefs and islands to fish. The south shoreline offers miles upon miles of fishing along Matagorda Island. Regardless of what kind of weather Old Man Winter throws at fishermen there is always some protected water. One of the most popular areas to fish here is the fabled Army Hole on Matagorda Island. This a deep-water hole that attracts a lot of trout and reds after a hard cold front blows through.