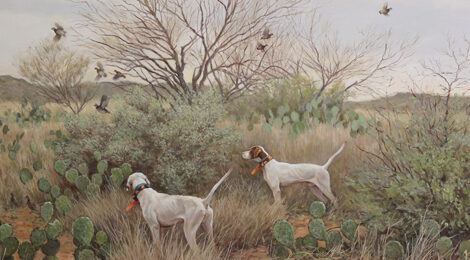 Upland bird hunters are passionate about the game hunted, protectors of their habitat and of ways to help these species once again flourish.  That is particularly true of bobwhite quail hunters that have seen a decline in quail numbers in recent decades due to a loss of habitat and weather-related challenges.
Most quail hunters embrace the fact the hunt is more than harvesting birds.  It encompasses so much more.  Watching a brace of pointers sniff out a covey of birds and appreciating the two dogs working together with one honoring another's point.
There is the visual and audible excitement of watching and hearing a covey burst from grassy hiding place close to dogs and hunters.  It is the decision to shoot, or not, and just absorb the moment.  Quail hunting has become a passionate and personal adventure.
Popular Texas artist Calvin Carter's "Split Cover" captures that moment when bobs explode from cover.  It's having watched the pointers find and point these birds hiding place.  And when shots are taken it is a celebrated moment of the harvest, and sometimes the good natured ribbing when shots are missed.
For more information on "Split Covey" and other fine works of art or commissions by Calvin Carter, visit www.calvincarterart.com, email mcalvincarter@yahoo.com or call (409) 201-6685. — Bill L. Olson
************************************************************************
To read more, click here to SUBSCRIBE