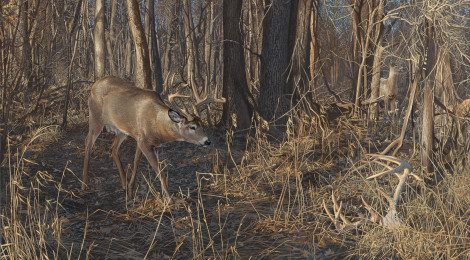 The general hunting season for whitetail deer opens across the Lone Star State this month.  Many memories will be made and stories told and retold by hunters in pursuit of their trophy buck.
In addition to the hunters stories how many other encounters will have stories of their own?  Scott Storm's "Next in Line — Whitetail Deer" depicts a mature buck coming across the bleached remains of a predecessor as a doe looks on.  One has to wonder, "were they related," had they been combatants, or complete strangers.
The realities of the untold story maybe never known, but the buck understands that now is his time, as he is "next in line."
For more information on "Next in Line — Whitetail Deer" and other works of art by Scot Storm visit Wild Wings at www.wildwings.com, or call (800) 445-4833.