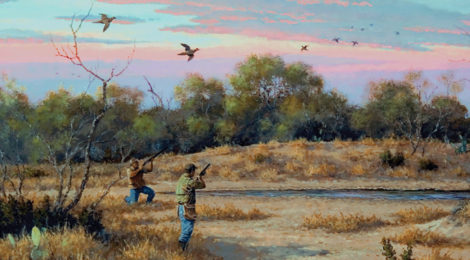 Popular Texas wildlife and sporting artist David Drinkard's "Dove Shoot at Little Tank" depicts a scene every shotgunner would love to experience not only on opening day of dove season, but several times during the season.  Without water nothing can survive and these hunters know that flights of dove will be flocking to this resource to drink as well as ingest some grit to help digest the seed they've eaten.
Around water, feeding areas, or along flight paths to and from roost areas the shooting can quickly warm a shotgun barrel.  Plus hunting dove is the most social of all hunts.  "Atta boys" for shots made and some good natured ribbing for easy shots missed.  Hunting seasons have once again arrived.
For more information on "Dove Shoot at Little Tank" and other fine works of art by David Drinkard please visit www.daviddrinkardart.com or call (409) 504-8810 or email dbdrinkard@aol.com.