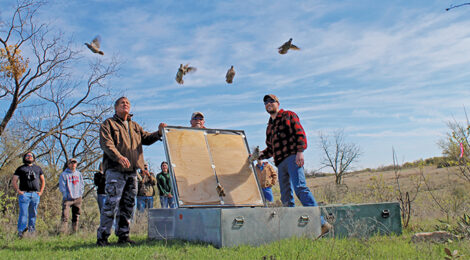 Texas researchers are hopeful this study will lay the groundwork plus stir interest in translocating wild quail.
Story and photography by Matt Williams
Translocation is nothing new to the toolbox of strategies used in wildlife management. Experts have relied on the technique for years to help restore native wildlife populations of different kinds, cultivate new ones or to supplement those that already exist. It's a laborious task that has worked with everything from black bears to grey wolves and giraffes.
Wild turkeys, white-tailed deer and bighorn sheep represent three of Texas' greatest wildlife translocation stories. Research scientists with the Rolling Plains Quail Research Foundation and Tarleton State University are hopeful that northern bobwhite quail might one day join the list.
Founded in 2006, the RPQRF is a nonprofit outfit centered on preserving Texas' rich quail hunting heritage. The organization has conducted all sorts of intensive research projects aimed at benefitting the iconic game birds that continue to struggle across much of their native range. Bass Pros Shops, Park Cities Quail and other Texas Quail Coalition chapters are among the generous supporters of those efforts.
RPQRF has been heavily involved in several translocation projects involving bobwhite and scaled quail dating back to 2013. Those projects, along with others carried out by the Texas Parks and Wildlife Department, Texas A&M University AgriLife Extension Service and Texas A&M-Commerce, have met with mixed levels of success.
RPQRF executive director Dale Rollins has heard the bells of optimism ring many times before. Last June, the music was sounding particularly sweet at the 2,200 acre Quahadi Ranch in Erath County near Stephenville, where month-old quail broods were roaming the landscape in numbers not seen in a very long time.
************************************************************************
To read more, click here to SUBSCRIBE