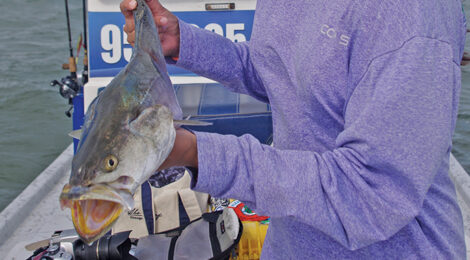 Trout and reds are switching gears as Texas coastal waters head into fall.
Story and photography by Robert Sloan
We were at the mouth of a bayou feeding into the lower end of Sabine Lake, the tide was falling and baitfish were swarming, shrimp were skipping across the water's surface and the bite was on as we popped our corks trailing bone colored D.O.A. shrimp.
"This is crazy," said Ed Collins, as he set the hook on another trout. "I've never seen anything like this. We pull up here, get anchored up and it's been a fish on just about every cast."
We definitely hit it right. There was a major feeding time going on, the tide was moving out and it was game on. Both reds and trout were chowing down on a smorgasbord of food moving out of the bayou and into Sabine Lake. In no time flat we had a box of both trout and reds.
Within the next hour or so, we had switched over to Yum Money Minnows and fished them along bottom to rack up five nice flounder. It was truly as good as it gets and a classic example of a summer to fall transition on our bays.
"This is the time of year when the shrimp and shad begin moving out of the marsh," says Sabine Lake guide Jerry Norris. "There will be lots of fish feeding on outgoing tides. The first week or two of September we'll have shrimp and shad slowly moving out of the marsh, and into the lake. Once we begin to get a couple of cool fronts through the action will get better and better."
After the first couple of fronts we'll have birds working on Sabine Lake, East and West Galveston bays, East Matagorda Bay and on down to Port O'Connor on West Matagorda and Espiritu Santo bays. When we have gulls holding over hungry schools of trout and reds you know we're in a major transition period. And as water temperatures begin to gradually fall the action under the birds will just keep improving.
************************************************************************
To read more, click here to SUBSCRIBE