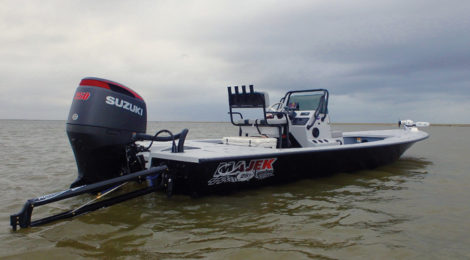 A variety of factors and important fishing aspects should be considered when buying a new boat and rigging it out.
Story and Photography by Nate Skinner
Boats.  There are numerous acronyms, phrases, theories, and topics for discussion when it comes to bay boats.  And with the diversity of Texas coastal estuaries, a variety of hull designs possessing different attributes can become a vital tool for anglers operating them in specific bay systems. There is not one single boat on the market that can do it all.  The perfect hull design to handle every situation our bays, estuaries, and marshes throw in boaters' faces does not exist.  Ever-changing conditions and varying average water depths along the coast can make choosing a style of bay boat an arduous decision.
Anglers consider what qualities or features they are willing to compromise on and which ones they are not.  They should consider what type of fishing the boat will be mostly used and what characteristics of the bodies of water it will most regularly navigate. If running through super skinny water and over shallow flats is necessary, then a catamaran, tunnel hull, or flat bottom style of bay boat will serve as the best vessel.  However, what is gained in shallow water capability is sometimes lost when it comes to performance and stability in rough, open water. A mono-hull, or vee-hull style of boat lacks the shallow draft capabilities than the aforementioned hulls boast.  However, these hulls that draw a bit more water will handle the choppy waters of deep, open bays like a charm. A few months ago I began to consider and analyze these factors as I contemplated which bay boat I would ultimately choose to become my next fishing machine.  This craft would not merely be a toy.  It would become a valuable tool.