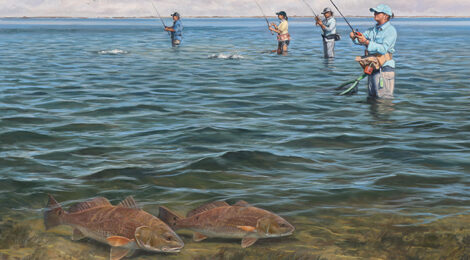 It's a special day to be on the water with family catching fish.  It's even more special to have a most popular Texas artist also there to shoot reference photos and then present a completed painting of that day in time.  Such is the case of this month's cover art shared by artist Calvin Carter and his client, David Gonsoulin.
A beautiful spring day with a variety of gamefish available to inhale whatever an angler offered.  Gonsoulin's family lined up working together to thoroughly cover the water, while working individually to entice a bite.
It's a familiar scene played out countless times by many, but when it's family involved that share a salty passion on a special day — it's truly priceless.
For more information on this painting and other fine works of art or commissions by Calvin Carter, visit www.calvincarterart.com, email mcalvincarter@yahoo.com or call (409) 201-6685. — Bill L. Olson
************************************************************************
To read more, click here to SUBSCRIBE