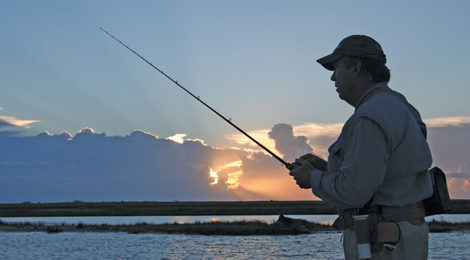 Options galore await topwater anglers looking to hook up with October reds and trout.
Story and Photography By Robert Sloan
A cool front had just pushed through and the water along the south shoreline of West Matagorda Bay was dead calm. Mullet were jumping all over the place as Phil Brannan and I eased over the side of my Haynie Big Foot boat. We knew this was going to be a special morning.
"This is like something out of a Cowan painting," said Brannan. "The sun is just now beginning to light up the eastern sky, there are baitfish every where and you just know that trout and reds are going to be chowing down, preparing for colder weather. I'm gonna stick with a topwater for about the first hour or so. Then maybe switch over to a twitch bait."
I had tied on a D.O.A. PT-7, one of the most weedless topwater lures ever made.
"We'll, I'm going to move up in the grass, along the island, and see if I can't trick a few slot reds into eating a weedless mullet imitation lure," I responded, sliding over the side of the boat and into the cool, green incoming tide. With this water coming up and flooding the shorelines with finger mullet, the reds have got to be in a feeding mode."
About a half hour into our wade I heard a whistle and saw Brannan stringing a silver trout glistening in the sunlight. He waved me over, but I had already put two fat slot reds on my stringer. There was no way I was going to leave some of the best topwater action of the year. The reds were waking and tailing up in the flooded grass. A light front had passed and the wind was now beginning to shift to an easterly direction. The water temperature had cooled a few degrees overnight so both the reds and trout were on a big morning feed.
We met back at the boat with stringers of fish. Brannan had a five trout limit, I had three reds and things could not have been better. It was a Thursday morning. There were maybe two other boats on this shoreline and it was about as good as things could get along the Texas coast.