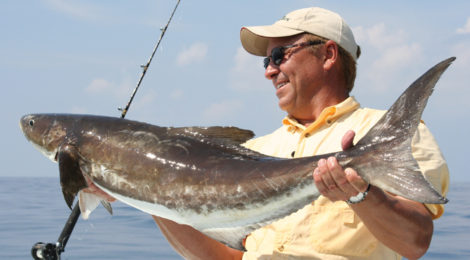 Ling will hit a variety of lures, put on a great fight and taste great on the table.
Story and Photography by Robert Sloan
The first ling I ever tangled with was at the Port O'Connor jetties. We were fishing for trout with live shrimp about the first week in August when a big 'ol bronze colored ling came cruising by the boat. It looked to weigh about 40 pounds.
Without hesitation I flipped a live shrimp in front of that fish not knowing it was about to wreck my brand new reel. It ate the shrimp, I set the hook and that fish took off like bat scat crazy. I screwed the drag down and less than 30 seconds later I had no line and the reel had completely come unglued.
"I bet you won't do that again," laughed Mike Barnes. "I'm not the smartest fishermen in the world but I do know better than to tangle with a ling on a lightweight trout rod."
Like they say, paybacks are hell. I became fascinated with catching ling, a.k.a. cobia. Since that day at the jetties I've caught my share of ling, including a state fly-fished record weighing just under 54 pounds.
This time of summer you never know where a ling is going to show up along the Gulf coast. It's not unusual for pier fishermen in Galveston to catch them. I once saw a guy reel one in while fishing the surf for bull reds along the Bolivar Peninsula. On another occasion I was fishing on the San Luis Pass pier early one morning when a guy came by dragging a huge ling he had just caught on a live sand trout. That fish weighed every bit of 60 pounds.
One of the biggest ling I ever seen and caught was at about midnight while drifting squid for swordfish about 70 miles off the Freeport jetties. That one weighed around 70 pounds and hit a one ounce silver spoon.