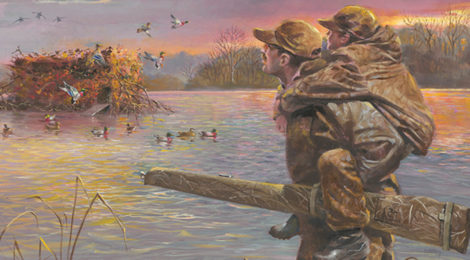 The Christmas holiday is certainly time for family and friends to spend afield or on the water.  This month's cover art by renowned wildlife and sporting artist Ralph J. McDonald is entitled, "Hurry Dad" that depicts the young son getting a piggy-back ride on his Dad's back to a duck blind already being buzzed by mallards.
Ralph, as he is known to his friends, was Duck's Unlimited's Artist of the Year in 1981.  In 2006 for a second time he was named DU's International Artist of The Year. In the summer of 2006 Ralph was inducted into the National Outdoor Legends Hall of Fame.
Each year for the past 14 years McDonald has produced a painting of a young boy or girl in a waterfowl setting for Ducks Unlimited.  Prints of these paintings have been auctioned at the organization's dinners throughout the United States and Canada.  The sales of these prints have raised over $27 million for DU's conservation projects.
For more information on "Hurry Dad" and other fine works of art by Ralph J. McDonald, visit www.countrysidestudio.com, or call (800) 235-1402.