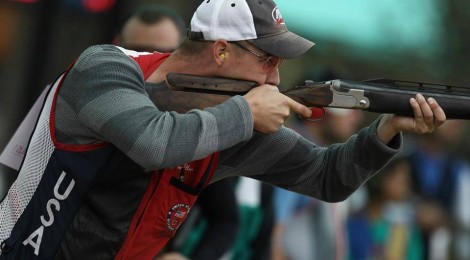 Now the celebration can really begin for Double Trap specialists Glenn Eller (Houston, Texas) and Ian Rupert (Muncy, Pa.) following a pair of autumn performances separated by just 20 days but equal in their dominance.
The two Double Trap World Champions scored wire-to-wire wins at a blustery 2013 USA Shooting Fall Selection Match on Thursday in Tucson, Ariz.
When you return from Lima, Peru, as World Champions as the duo did, you think the drive and focus might be lacking when you have to get right back on the gun and prove yourself all over again.  A world title was nice but for the two men to continue down the path they've envisioned in 2014, then domestic success at Fall Selection was a must.
In the span of three weeks, Eller, the four-time Olympic veteran and two-time World Champion, has pulled himself back into the ranks of where he was five years ago when he became Olympic champion at the 2008 Olympic Games in Beijing, China. Eller's World Champs medal was his first international medal since a World Cup bronze medal in 2011.
True to form over the past decade, the toughest competition Eller and his teammates Jeff Holguin(Yorba Linda, Calif.) and Josh Richmond(Hillsgrove, Pa.) routinely face are the same competitors they see and compete against daily. The three have had a decade-long stranglehold on both the World and U.S. Double Trap competition.  Combined they have earned 14 World Championship medals, 26 World Cup medals and appeared in six Olympic Games.
The three finished on the podium once again with Holguin advancing to the final after defeating Richmond in a shoot-out after tying at 27 during the 30-target semifinal.  After a 28 semifinal, Eller would score a 26 and a one-target win over his 2008 Olympic teammate Holguin for the gold medal.  Richmond would secure bronze after a four-target win in his bronze-medal match with Derek Haldeman (Sunbury, Ohio).  Other finalists included Rupert and Christian Wilkoski (Centerburg, Ohio).
Eller held the first-day lead by three targets and by the end of Thursday's qualification had tripled his lead over second-place qualifier Holguin, 285-276. The podium finishers placed exactly how they had finished in qualifying with Richmond qualifying third with 271 targets hit.
In the junior division, the junior world champion Rupert held a five-point advantage on Wilkoski after Day 1 and by the end of Thursday had extended his lead to 14 after qualification had concluded.  Junior results are based off of match scores with Wilkoski finishing second, two targets ahead of third-place finisher Billy Crawford (Johnstown, Ohio).   Other finalists and order of finishers included Hank Garvey(Newburyport, Mass.), Jesse Haynes-Lewis (Nahant, Mass.), Jacob Fritcher (Driftwood, Texas) and Dale Royer (Jackson, Mont.).
The ranges of Tucson Trap & Skeet will now welcome the top Men's and Women's skeet shooters in America for three days of competition starting with official training on Friday and concluding on Monday after 250 targets.  Alex Rennert (Surfside, Fla.) and Rachael Heiden(Clinton, Mich.) earned the Trap titles for Fall Selection on Monday.