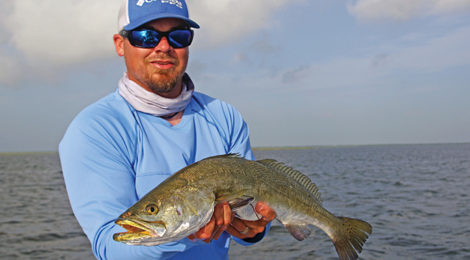 Big trout, best lures, tactics and locations during lunker speckled trout season.
Photography and Story By Robert Sloan
For the next couple of months anglers along the entire Texas Gulf Coast will be in the hunt for trophy trout. Of course, the ultimate goal will be to catch a state record but doing that can be just about impossible, considering the fact that the heaviest speckled trout ever to make it to the record books in Texas weighed 15.60 pounds. She was caught on the Lower Laguna Madre on May 23, 2002 and was 37.25 inches long. That remarkable trout was caught on a fly.
The second heaviest trout in the Texas record books was caught on the Upper Laguna Madre on February 6, 1996 and weighed 13.69 pounds. She was 33.13 inches long and ate a slow sinking Corky with a chartreuse/sparkle body.
Corpus Christi Bay is where a 12.44-pound trout was caught on March 18, 2014. She was 32.25-inches long and whacked a Bass Assassin.
On the upper Texas coast the heaviest trout to be caught from Galveston Bay weighed 12.11 pounds. She was 31.50 inches long, and fell for a soft plastic jig on March 19, 2007. The best from Sabine Lake weighed 11.50 pounds. She was caught on March 28, 1999, was 30.50 inches long and hit a chartreuse Mirrolure Top Dog.
When you catch a trout measuring over 30 inches it's more than likely going to weigh over 11 pounds – a definite trophy class trout.
It's been said that wall-class trout predominantly feed on mullet. That might be true but as you can see the state record was fly-fished on a crab-like fly. And others have been caught on soft plastic tails.
Guide Dwayne Lowrey uses soft plastics a lot. He lives in Port O'Connor, but about this time of year spends a lot of time on Baffin Bay.