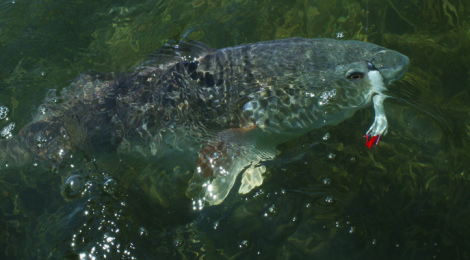 Unraveling the mystery behind where to go and what to throw during the last full month of spring.
By Danno Wise
First things first — May is a spring month. Temperatures in the Lone Star State will undoubtedly have a summer feel by the end of the fifth month of the year, but spring won't end until mid-June. So, fishermen should still approach May as part of the spring season, which almost always means "transition" in the angling realm. Over the next few weeks, speckled trout and redfish will be making their final "spring transition," as by month's end, they will have established a pattern of behavior they will follow through summer and into early fall.
During the final full month of spring, although the temperatures will be rising, the water will still be pleasantly cool enough for fish to stay up shallow throughout most of the day. And, as the water warms, fish will be found over sand rather than muddy bottom areas of the bay. This makes wade fishing an outstanding option during late spring, as the hard bottom, shallow water areas that make for easy wading are also holding plenty of fish this time of year. As an added bonus, fishing shallow water makes for a great way to avoid the spring winds, which will still be blowing a substantial portion of the time during May.
However, knowing what to throw in shallow water during spring is a little trickier than when fish are found on the flats during fall or in the early morning hours of summer. That is because, again, spring weather changes from day-to-day while summer and fall weather tends to be more stable. The ever-changing weather, of course, affects the water conditions. While one day may find the water over the shallow flats clear and calm, the next day may see it roiled and muddy. The fish won't leave just because the water turns dirty, but anglers will need to adjust their lure choices and presentations.
Regardless of water conditions, when fishing during May, anglers will generally do better using small baits, as most of the prey items are still in their juvenile stage following the spring hatch. Of course, clear water is certainly a bonus when using "junior"-sized baits, but it's not a necessity. If, however, the water is clear and the wind is at least reasonably calm, anglers can experience some excellent sight-casting opportunities during May.