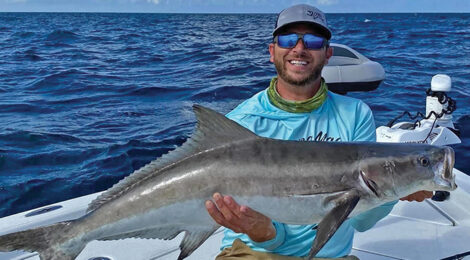 Options include trolling for kingfish and tarpon, fishing structure for snapper or grouper plus specks and reds inside.
Story and photography by Danno Wise
As summer enters its home stretch, many outdoorsmen have begun turning their attention afield to the various hunting seasons which are opening. However, just north of the Mexican border, a growing number of inshore anglers are holding off on trading rods for shotguns because of the diverse nearshore offerings to be had before autumn arrives.
From July through August, angler along the Lower Texas Coast can experience a diversity of nearshore catches not found outside South Florida in the Lower 48. Thanks to the typically calm conditions during late summer, fishermen are able to pursue these species from bay boats of all sizes, meaning this nearshore action is accessible to nearly every angler.
Kingfish, in particular, come in extremely close. In fact, it is not unusual for fishermen to catch keeper kings casting from the jetties. During late summer, Lower Laguna Madre fishermen often start the day fishing for kings before heading back into the bay to pursue the typical fare of trout and redfish. Port Isabel guide Capt Austin Camacho says that is his regular routine during September.
 "Usually during August and September, we'll start out at the jetties," said Camacho. "I'll spend some time out there trolling for kingfish. We'll put out a couple rods with either ribbonfish or Rapalas and troll along the jetties and then make a loop a half mile to a mile offshore. A lot of times in September, it's calm enough to where you can run out as far as you want. But, you can usually get your kings in the pass or within a mile of the beach. "After we spend a little time trolling for kings, we'll head back into the bay to fish for redfish, trout and flounder.
************************************************************************
To read more, click here to SUBSCRIBE