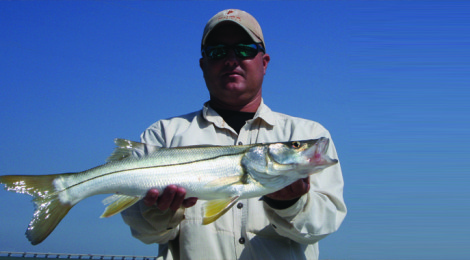 Besides the red drum run Texas coastal anglers have three other reliable species to pursue.
Story and photography by Danno Wise
Up and down the Texas Coast, redfish are all the rage in October. The Lower Laguna Madre region is no different – there are plenty of light-tackle inshore anglers blinded by the excellent red drum action during early autumn. However, this semi-tropical region also offers outstanding autumn action for three other popular inshore species – snook, mangrove snapper and speckled trout. This is not to say redfish aren't a worth autumn foe, but snook, snapper and specks provide plenty of inshore action to provide anglers many memorable outings without hooking a single spottail.
Most Lower Laguna Madre area regulars are certainly familiar with snook, snapper and speckled trout. Many of these fishermen routinely target one or more of these species in spring, summer or winter. However, they tend to get tunnel vision and forget all about them in the fall. So, here's a bit of background information on how each of these species behaves in autumn:
Snook  – Personally, snook are my favorite fall fish. While upcoming winter snook fishing can be very good, by that point snook are pretty much concentrated around deep water structure. Fall represents the final chance to find snook in a variety of settings before the colder winter weather sets in.
During October, anglers have several options when it comes to choosing snook fishing grounds. There are always some snook in the local ports – Brownsville and Port Isabel – although during late summer and early fall, there are better options. Anglers will have all winter to chase snook in the ports. During fall, fishermen should spend time enjoy catching snook from two of their more common seasonal haunts – the jetties and shallow flats.