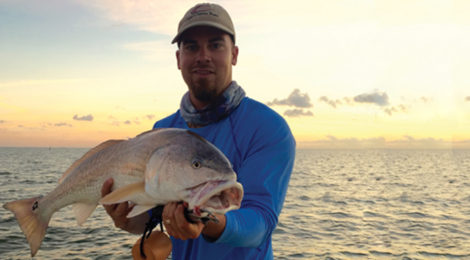 Hoards of black drum with some red drum mixed in await anglers longing for a bent rod and big tug.
Story and photography by Nate Skinner
Transition. It's the biggest situational challenge most anglers are faced with as spring arrives on the Texas coast. Although speckled trout are entering into their peak spawning period with many at their heaviest weight, consistently staying hooked up with trophy specks in March can be downright grueling.
The third month of the year often sports a variety of weather conditions ranging from mild temperatures and warming water trends to lingering late season cool fronts. The wind is sure to blow too creating off-colored bay waters and some difficult scenarios. Combine these variables with ever changing spring tides and it's easy to understand how pinpointing fish laden hot spots becomes an arduous task. Those unable to hit the water at the drop of a hat may miss out on the premium conditions and time periods to search for their next spotted personal best.