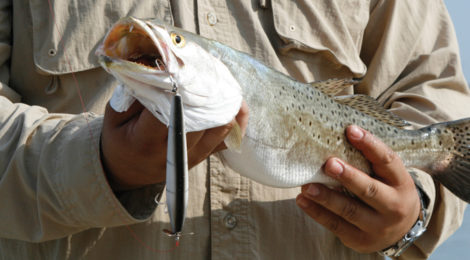 Anglers can choose from a variety of power fishing options to utilize during spring.
Story and photography by Danno Wise
As spring's warmer weather arrives along the Texas coast, speckled trout action kicks into high gear. With the warmer temperatures, fish generally become more aggressive meaning fishermen can move faster, retrieve baits faster and use more "power techniques" to cover wide swathes of water in order to find and catch fish.
While it is often essential to cover water quickly during spring in order to find fish, it is usually just as necessary to make sound to attract fish to lures and baits due to the often murky or off-color water resulting from strong spring winds. As a result, anglers should consider the prevailing wind and water conditions when choosing their plan of attack during spring days on the bay.
Regardless of what the weather is doing on any given day, there are a variety of power fishing options fishermen can choose to employ during spring.  Here are some suggestions.