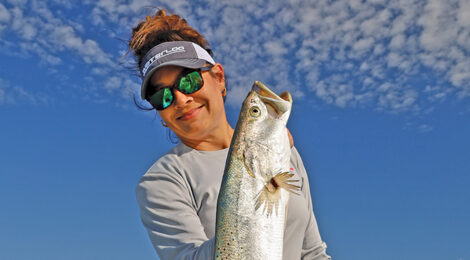 Warming water temperatures, an influx of seasonal bait and voracious feeding gamefish sets up an angling progression that only gets better over time.
Story and photography by Danno Wise
March means spring is here. That means a variety of things including warmer weather and warmer water in Texas bays. It also means a variety of marine fish and creatures will be spawning, filling the bays with tiny fry and other tasty treats for predator fish. The combination of warmth and plentiful food will result in many more aggressive fish, which means anglers will be able to catch fish in a variety of ways and in a variety of settings in every bay along the Texas coast.
In a general sense, that's what spring coastal fishing is about in the Lone Star State. More specifically, nothing says spring saltwater fishing in Texas as much as speckled trout. Without a doubt, specks will be the prime target for most fishermen as the spring season begins.
Of course, not every angler will have the same thing in mind when they take to the water to try and attract speckled trout. Some will be looking for a box of fish for fillets. Some will be looking for the fish of a lifetime. Yet, others will be simply hoping to have steady action. That is part of what makes March so magical for speckled trout fishermen – fish of all sizes will be found over all types of structures and willing to take a variety of lures and baits over the next few weeks. So, no matter their goal when it comes to targeting specks this month, anglers have better than average odds of achieving it.
Part of the reason for this is the aforementioned warming water. Water temperatures will be warm enough to encourage fish to spend more time in the shallows, but not so hot as to make them lethargic. So, there will be fish found at all depths and over all sorts of structures and bottom compositions.
************************************************************************
To read more, click here to SUBSCRIBE