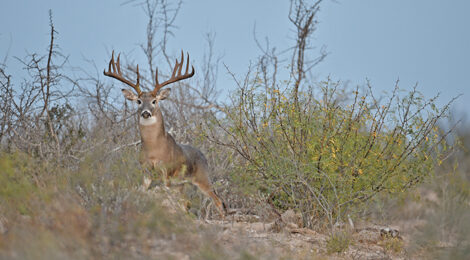 While 2022 may not be a banner year for trophy bucks, what it will be is an excuse to enjoy the great outdoors with family and friends.
Story and photography by Bob Zaiglin
The most anticipated event for Texas deer hunters is the rut.  At no other time during the hunting season are mature bucks more likely to appear than during the breeding season.  Peak rut varies throughout Texas beginning in East Texas around Thanksgiving, late November in the Hill Country and mid-December in South Texas.  Sportsmen with time and access can actually hunt during three rutting periods in a single year.
The rut is not only an optimal time to harvest a trophy buck, it also represents a shallow window of opportunity to critique seldom seen bucks in order to determine the impact management has on those cherished antlers.
By maintaining records of bucks observed based on age, along with an estimate of antler size, hunters become more in sync with the impact management and climatic conditions have on deer and the habitat they depend upon.  Information that can also be employed to fine tune harvest practices, particularly when it comes to conserving those young bucks exhibiting exceptional and highly desirable antler traits.
************************************************************************
To read more, click here to SUBSCRIBE