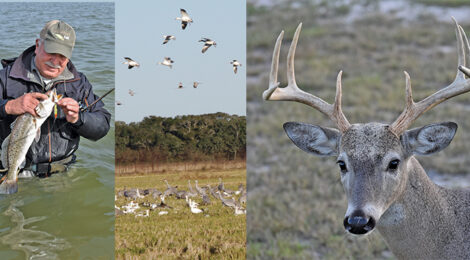 It's the Christmas holidays so it is time to get outdoors with friends and family.
Story and photography by Robert Sloan
December is my favorite month of the year. It's cold, it's the holidays and it is time to get outdoors with friends and family. Hunting seasons are wide open plus fishing along the coast and on inland lakes can be better than you might think.
On the hunting scene deer hunters in pursuit of whitetail deer is the big event right now. Corn feeders are drawing in lots of deer and turkeys, not to mention pigs.
For those going after birds there are duck and goose hunts in a variety of locations across the Lone Star State. Another migrating and under-hunted options is for sand hill cranes.
The overlooked and underutilized late winter dove season opens on December 17. Plus there are quail hunts for both wild and released birds.  It's a great option not only for some fast shooting but also to enjoy some dog with while hunting over pointers.
If you do opt to participate in a hunt don't forget to make room for the kids that are out of school. There will be a ton of kids in from college and they will definitely want to get in on some of the outdoor fun during the Christmas holidays.
Of course, deer hunting will be at the headliner of all of the things to do. It's a chance to spend a few days with family and friends at hunting camp and sitting around a camp fire at night. The days will be cool and the nights can be cold. Just make sure you have plenty of firewood ready to burn. In fact, a big deal for my group of hunters is to spend at least one day gathering, cutting and splitting wood. It can be family event that's good exercise and the end result is a fire to cook some good steaks over and keep you warm.
I love to deer hunt but I seldom will get in a standard box blind. It just too boring. Instead, we will come together and build brush blinds.
Last season a buddy of mine had his son in from school at Ole Miss. We made a five day hunt just before Christmas day. On one day I came in from hunting a back pasture on the ranch and told them I needed help in building a brush blind in an area of oak trees and cedars that rarely got hunted. That afternoon I had broadcast about three gallons of corn.
************************************************************************
To read more, click here to SUBSCRIBE