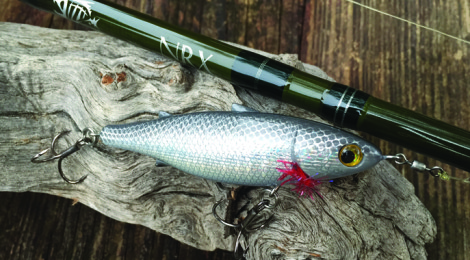 Some proven lures that can produce some wall hogs as trophy trout season cranks up.
Story and Photography By Robert Sloan
Trout fishing along the Texas Gulf coast cranks up during February for one very good reason – this is the optimum time to catch a true wall hanger. Each and every cast could be the one that gets hit with a career speck that you have worked for during many hours of grinding it out on water from Sabine Lake to the Lower Laguna Madre.
There's no question about when a trout becomes wall class. A 7-pounder is close. An honest 8-pounder is a trophy. Nine's and 10's will take your breath away. And trout in the 12-pound-plus class are off the charts awesome.
The current state record trout weighed 15.60 pounds. She was 37.25 inches long and was caught on the Lower Laguna Madre by Bud Rowland. He caught that incredible fish on a fly. You might say that was a freaky catch. He saw the trout in about 2 feet of water. Dropped a fly on her and made the catch. That was on May 23, 2002 – definitely a different situation than how most heavyweights are caught.
The first recorded state record trout in Texas weighed 13 pounds, 9 ounces. She was caught on Baffin Bay by Mike Blackwood on March 16, 1975. That record lasted until Mike Wallace caught a record breaking 13 pound, 11 ounce trout while fishing Baffin Bay on February 6, 1996. She was 33-1/8 inches long.
Trophy trout time in Texas is January through April. To be more specific trout are at their heaviest in April during the spawn. That's when they can put on one to two pounds, according to data from Texas Parks and Wildlife Department. And that's when the bulk of Lone Star sows are caught. March and especially April are the prime months for searching out trophies. That's not to say heavy specks can't be caught during February. Wallace's catch proves that.