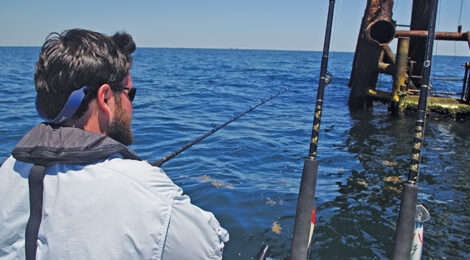 Vertical structure of wells may no longer exist in Texas' bays, State waters or offshore, but these sites may have vestiges that still attracts fish.
Story and photography by Bill L. Olson
Texas is known worldwide as an oil and gas production giant.  Besides land-based well locations there are hundreds of production sites in coastal bays, near-shore State waters and federal leases in deeper water beyond nine-nautical miles.
These structures range in a variety of sizes plus serve as an attractant for the entire marine life food chain.  From providing shade, shell pads, vertical structure on which algae and crustaceans attach themselves and more, the wells become mini-marine oasis in areas that otherwise void of features.
Back in the 60s, 70s, and 80s one of the hot spots for upper coast anglers was fishing gas wells in Galveston and Trinity Bays.  These scattered, but concentrated locations provided vertical as well as bottom contour structure in upper inland estuaries as far as the eye could see.
One of the most popular areas frequented by speckled trout anglers was in behind the Bolivar Peninsula.  The abundance of wells and fish attracting shell pads upon which wellheads and service/protection platforms were located became easy targets to fish time and again.
Speckled trout were attracted to the shell pad that created a hump on the bay floor below the wellhead plus edges that also held fish.  Depending up the strength and direction of the current, trout would be found at different distance from the vertical structure and most times off one side or corner of the pad.
************************************************************************
To read more, click here to SUBSCRIBE