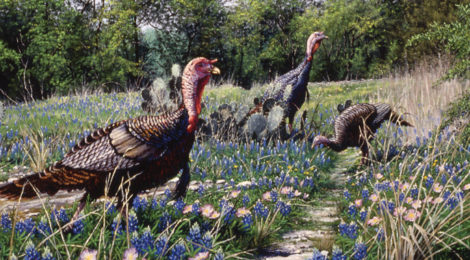 For over 25 years, 12 issues a year wildlife or sporting art has graced Texas Outdoors Journal's covers.  A photograph never has, nor will be used.  It has always been our way of acknowledging the contribution these talented men and women have made to state and conservation stamp print series as well as their countless donations of originals, prints and giclee's for fundraisers.
One talented, native central Texas painter named Kenneth Helgren had been inadvertently overlooked.  He designed and painted the 1997 White-Winged Dover Stamp for Texas Parks and Wildlife and illustrated a manual on Hunter Safety that was published and distributed by Outdoor Life, competed in the Federal Duck Stamp competition and his art was displayed in a calendar for the National Wildlife Federation.  He painted the beauty of our natural world.  His primary subjects were the native wildlife of Texas and North American landscapes plus historical subjects of the American West and animals of Africa.
Kenny, as he is referred in his biography passed away on October 13, 2011 at the age of 60.  It also revealed him having said, "I hope that my paintings will help preserve on canvas the natural beauty that is, by God's design, so much a part of our natural heritage."
His son, Jake relayed that his mother said he always had hoped his artwork would one day appear on the cover of a Texas magazine.  Well Kenny, I hope you and your family are as pleased as we are to introduce your "Turkey on a Deer Trail" as this month's TOJ cover art.  Bluebonnets, Rio Grande turkey, spring green up and a deer trail that draws one's eye into the depth of the painting.  It perfectly depicts what we love about springtime in Texas.
For more information on "Turkey on a Deer Trail" and other available works of art by Kenneth Helgren visit www.kennethhelgrenart.com or call (512) 947-3424.  — Bill L. Olson