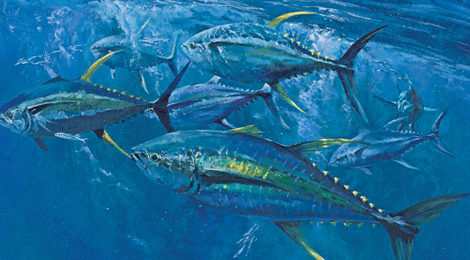 Offshore activity in the Gulf of Mexico peaks in August with a variety of pelagic species on the prowl. Many bluewater anglers focus on billfish like sails and blue or white marlin. However, when it comes to big water brutes the yellow fin tuna take top honors.
While blackfin are caught closer to shore and blue fin tuna are novelties, it is the yellowfin that most anglers want to tangle. Find a school of tuna busting schools of bait on the surface and it is "game on."
Heavy weight tackle and shear determination is what many times is needed to bring a huge yellowfin tuna to gaff. Between the moment a yellowfiin is hooked until it is landed the battle ranges as to who will win, angler or the big tuna.
For more information on "Epic Tuna," plus other fine works of art or commissions by Chance Yarbrough, visit www.chanceyarbroughart.com, email cyarbrough84@yahoo.com or call (254) 424-3171.