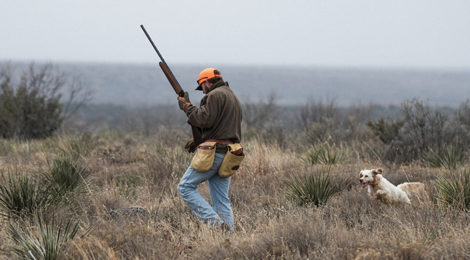 Experts say medicated feed takes the bite out of parasite infections in quail.
Story and photography by Matt Williams
"Our well being, our future and sustainability even as a human race — I think it depends on the sustainability of our wildlife." Dr. Ron Kendall, Ph.D., Texas Tech University
A half dozen hunting seasons have passed us by since wildlife researchers sniffed out a solid connection between parasites and the mysterious vanishing act of bobwhite quail that occurred across the Rolling Plains region of West Texas in 2010.
The finding has since led to a number of promising breakthroughs, including the development of the first medicated feed for treating parasitic infections in wild quail.
Fittingly called QuailGuard, the granular feed is currently awaiting a rubber stamp from the U.S. Food and Drug Administration. According to Dr. Ron Kendall, approval of the medicated forage for commercial use can't happen a day too soon.
"It takes a long time to bring something like this forward," Kendall said. "But there is a solution on the way."
Kendall is a Kent County cattle rancher, quail hunter and scientist who heads up the Wildlife Toxicology Lab at Texas Tech University, where QuailGuard was developed. He was heavily involved in a long line of research studies that led to the identification of two parasites — eyeworms and caecal worms — which scientists believe to have played major roles in the significant declines witnessed in the region's bobwhite quail population in recent times.
The 2010 crash was particularly alarming because it came at a time when all the common denominators pointed to a boom year for bobwhites and a welcomed windfall for local economies driven largely by quail hunter dollars. Poor habitat and drought — two factors with long histories of driving bust cycles of quail — weren't part of the equation at the time.
"Everything was set up for a great hunting season in 2010," Kendall said. "The habitat was in perfect shape throughout the summer all across the Rolling Plains. You had to be really careful driving around ranch roads because there were so many broods. Then, come fall, you couldn't hardly find a quail. I'm not talking about losing a few. Many ranches lost 70-90 percent of their birds."