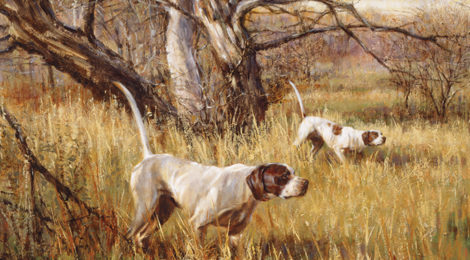 For many quail hunters their joy afield is not just about the hunt and harvest. It is also about watching a brace of pointers wind their way through a field and lockup-hard on a covey of bobwhite quail.
Renowned pointing dog and sporting artist Lou Pasqua captures such a scene often observed right here in the Lone Star State. His "Pointer Pair" depicts two liver and white pointers on point. One pointer is closest to the action with the brace-mate honoring the point of the dog closest to the action.
The excitement of the pointer smelling and seeing the bobs in brush is felt by the hunter. Each knows in a moment the birds may start to run or try to escape by exploding skyward from their brushy cover. It is the adrenaline rush that makes quail hunting so special — to both dog and hunter.
For more information on "Pointer Pair," or other fine works of art and commissions by Lou Pasqua, visit www.loupasqua.com, email pat@ loupasqua@comcast.net or call (412) 782-4869. — Bill L. Olson.