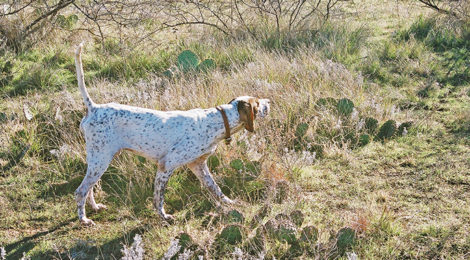 Diverse landscapes and a better than average hatch once again entices upland bird hunters.
Story and Photography by Bill L. Olson
Friendly morning banter and high anticipation filled the cab of the Ford F-250 Super Duty as it headed out of Cotulla on its way to the lease. Similar excitement could also be heard from the dog boxes mounted on the frame of the short-wheel based truck that carried prized German shorthair pointers.
Recent cold fronts and frost knocked back the heavy brush that had provided good nesting cover for an above average quail hatch. Now, with a lack of green vegetation and a light wind day the keen-nosed pointers should sniff out plenty of opportunities for some exciting, fast shooting at coveys of bobwhite quail.
This event occurred back in the '70s when my Dad, Sam L. Olson Jr. plus his two bird hunting buddies, Houston Ford dealer Jack Roach Jr. and Houston allergist Dr. O.C. "Tommy" Thomas made weekly forays to their lease in South Texas' Brush Country. Over the years, and through the seasons there were occasions their sons got to tag along to enjoy some of the most thrilling bird hunting and memorable camaraderie afield.
Once the sun started to set in a colorful western sky Dad pulled out his trusty Case pocketknife to slice up some cheeses and Dozier's summer sausage as the "19th Hole – Hunting Style" was officially open. Everyone pitched in one way or another. The sons became the bird boys cleaning the harvested quail. A variety of libations were opened or made now that shooting times were over for the day. Plus there were those that offered deadpanned-comical critiques of how things were done right, wrong, or of great shots made and easy ones missed over the course of the day.
Since those days I have never put on a pair of snake-leggings, strapped on a game bag or shouldered my 20 gauge without thinking of those three that shared spectacular times with friends and family. It is one of a number of aspects that makes quail hunting so special and memorable.