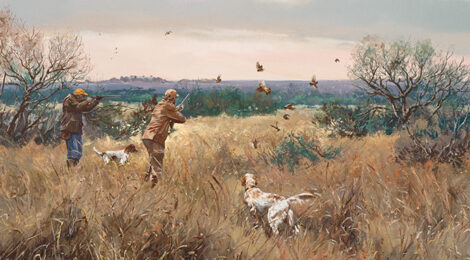 At the close of deer season on many leases quail hunting takes center stage. Even in a year when the quail hatch may not be strong upland bird hunters stretch their legs as they follow a brace of pointers in pursuit of bobwhite quail. The exercise is as much to watch the dogs work, point, honor and birds flush, as it is to put birds in the game bag.
Popular Texas wildlife and sporting artist Chance Yarbrough shares a commission he painted for Houston sporting retailer Gordy & Sons Outfitters entitled "Quail Country Covey." The painting depicts the father and one of his sons hunting one of their quail pastures on their ranch located between Batesville and La Pryor.
Yarbrough confessed, "I've not done as much quail hunting as I have for deer and waterfowl. However, it has become a growing passion. I love seeing good dogs work plus the thrill of the covey rise."
 For more information on "Quail Country Covey," a commission or other fine works of art by Chance Yarbrough, visit www.chance-yarbrough.com, email Cyarbrough84@yahoo.com or call (254)424-3171. — Bill L. Olson.
************************************************************************
To read more, click here to SUBSCRIBE