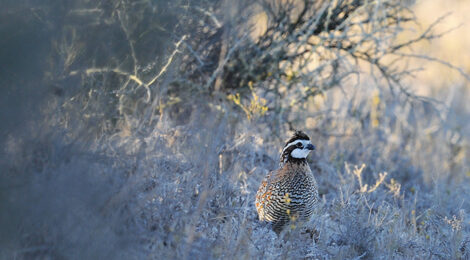 As seasons wind down there is time to reflect plus enjoy pursuing Texas revered gamebird.
Story and photography by Bob Zaiglin
Keeping up with my dog in the deep white sugar sand in Atascosa County was challenging as it provided no traction, but my hound moved through it with ease. I was hunting quail with an unconventional dog, my Cata. I've shared a lot of my time with him as we spent hours, oftentimes after dark, negotiating my way through clothes-shredding thornscrub and the occasional rattlesnake throughout December tracking wounded deer on the various ranches I managed early on in my career.
Rowdy had a phenomenal olfactory system and locating a wounded buck was not a chore, but an enjoyable experience. It was so much fun I would take my young daughters as often as I could with me to share the experience and his exuberance didn't stop with deer.
He would hunt anything I was after simply to accompany me, and when it came to quail, I would match his nose up with my English setter that I hunted grouse with in my early years. But when it came to getting prepared for a covey rise, I had to have him in sight because other than erupting into a nervous wreck when the scent of birds permeated his nose, one would never know quail were nearby, which was always a challenge when it came to prepare for a covey rise.
************************************************************************
To read more, click here to SUBSCRIBE