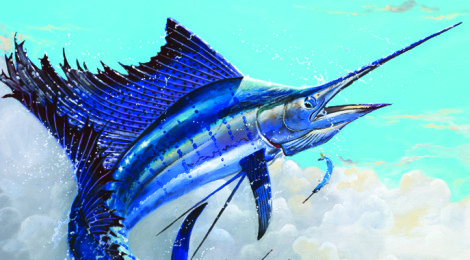 In July offshore fishing begins to sizzle as the Gulf of Mexico water temperatures heat up. Pelagic species move closer to shore as they follow bait so that means blue water species like wahoo, dorado, and even sailfish are found within striking distance of the mosquito fleet or big blue water sportfishing boats.
When it comes to billfish, sailfish are readily found along the Texas coast. Renowned marine artist Carey Chen's "Free Jumper" is the perfect artwork for our July cover. The free-jumping sailfish busting a pod of ballyhoo is spotted by the crew of a nearby sportfisherman. You can bet the adrenaline starts pumping for any offshore anglers when such a spectacle is observed. The sighting indicates the anglers in the right area and the action could begin at any moment with a hook up.
For more information on "Free Jumper" or other works of art, jewelry and clothing designed by Carey Chen, visit www.careychen.com, or email tiffany@careychen.com.