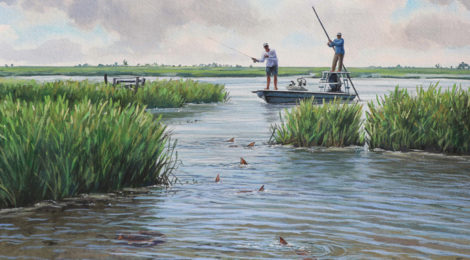 Winter tides that normally drop out of bays, draining back lake areas of water, did not fall this winter. The lack of serious winter weathers with strong north winds combined with tides that have run unseasonably high for much of 2016 means there is plenty of water in back lakes area.
Combine this with the seasonal migration of speckled trout and redfish to these areas and Texas anglers should find some excellent skinny water fishing behind our barrier islands as well as in marsh areas. This is where great sightcasting to tailing redfish and speckled trout occurs.
Calvin Carter's "Chasing Tails" depicts a scene that will be common in March. A shallow draft skiff being poled to position an angler to cast to tailing redfish. This is an exciting form of fishing in some spectacular waters all along our coast.
For more information on this "Chasing Tails" and other fine works of art by Calvin Carter visit www.calvincarterart.com or call (409) 201-6685.