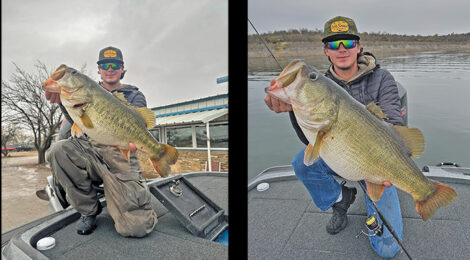 Two anglers recount fairy tale days on Texas' hottest big bass lake, O.H. Ivie.
Story and photography by Matt Williams
We're on the downhill slide of another Toyota ShareLunker collection season in Texas. If this one has been anything like those in recent history, Texas Parks and Wildlife hatchery personnel have been burning up the highways between Lake O.H. Ivie and the program headquarters at the Texas Freshwater Fisheries Center in Athens.
The West Texas reservoir has been somewhat like a blood bank for the popular selective breeding, stocking and genetics research program, which began its 37th season on January 1. The lake produced 12 fish upwards of the 13 pounds during each of the last two collection seasons, ending March 31.
ShareLunker crews actually stopped retrieving Legacy entries from the lake a little early in the collection season last year. The idea was to leave a few lunker bunkers open for fish from other water bodies, or in case some lucky angler happened to reel in a new state record. Having access to too many double-digit bass is never a bad problem when you're in the fish breeding business hoping to crack the code that produces genetic giants.
Not surprisingly, all the hoopla out West has sparked a wealth of fishing traffic from fiery-eyed anglers across Texas and beyond, all hoping to connect with the bass of a lifetime. Though most have failed, many have struck big bass gold at what some are calling the hottest big bass fishery of the modern era.
If you know bass fishermen, then you know big fish catches are usually followed by some really tall fishing stories. I've heard some whoppers from anglers who found pay dirt at O.H. Ivie. Two of the best came just ahead of the New Year, courtesy of Josh Jones and Dalton Smith.
************************************************************************
To read more, click here to SUBSCRIBE