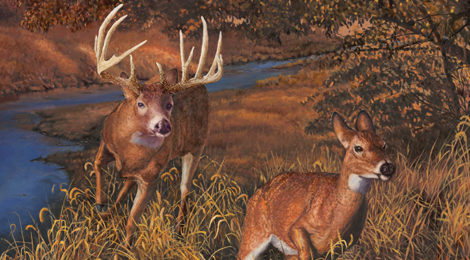 Popular wildlife artist Pat Pauley has painted a beautiful fall scene that could well be right out of Texas Hill Country. A huge whitetail buck is chasing a hot doe along a creek's hillside. The lighting, intensity and opportunity are all captured in this month's cover art entitled "Prized Possession."
Immediately the title raises a question of what actually is the Prized Possession? Is it the huge buck. Is it the doe to the buck? Maybe it is all of that and more including the fact Texans and hunters are so blessed to be able to hunt whitetail deer.
When the question was put to Pauley he said the assessment was "spot on. It is all those things depending upon whose perspective is being considered. To the hunter it may well be the heavy antlered buck. To the buck it is certainly the hot doe, and to many it is observing and being able to hunt these magnificent animals."
For more information on "Prized Possession," or other fine works of art and commissions by Pat Pauley, visit www.patpauleyart.com, email pat@patpauleyart.com or call (402) 312-3031. — Bill L. Olson.