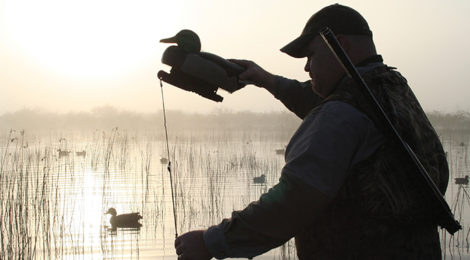 Crank it up for another duck hunting season and Texas has lots of options.
Story and Photography By Robert Sloan
One of the most exciting things about a duck hunt is getting set up before shooting time and having barely visible ducks zipping across the decoys, whirling around and coming in for a splash down. It's a time when everybody on the hunt is dead silent. You'll know when ducks are coming into the decoys – the Labrador retriever will be on point and whining.
Then there is legal shooting time. Guns are loaded, the Mojo decoys are cranked up, the dog is on point and the calls are tuned and ready for action.
There are all sorts of places to duck hunt in Texas and find this kind of waterfowl hunting exceitment. The big lakes in East and Central Texas are very popular. Marsh ponds are like duck magnets. We've got the playa lakes in the Panhandle, coastal bays, flooded rice fields and our many rivers and their tributaries. Plus, there are all sorts of wildlife management areas and national wildlife preserves. The key is knowing where the duck hunting hotspots are, and when to use them.
Back in the 70's me a group of friends hunted a whole lot on Matagorda Island. Texas Parks and Wildlife Department ran duck hunts out of the old Army base there. It was some of the best, and easiest hunting we had ever experienced. The trick was to get there in time to draw one of the better ponds which were bomb craters from when the military was training pilots.
Traveling to the island was a real trick. We had to run down the Intracoastal Waterway, out of Port O'Connor at about 4 a.m., find the Army cut and make the long run across Espiritu Santo Bay. The hunts were worth the risk, especially when we were drawn for the primo ponds.
Those ponds were small, like maybe a half acre. They were all freshwater and the ducks loved to come to them after feeding in nearby bays and fields. That was back in the day when we could kill 10 ducks each. On the island most of those birds were pintails and widgeon.