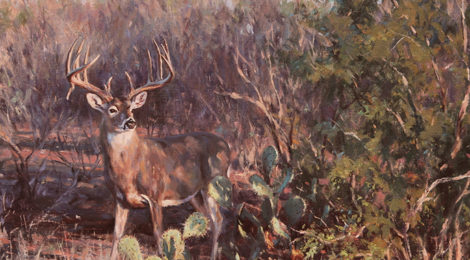 Special sightings occur during whitetail deer season — particularly in South Texas Brush Country. Many times it is in the afternoon when shadows grow long and fading light becomes soft.
For what seems like hours things have been quiet with not much moving. Then maybe a few bobwhite quail scurrying across a grassy sendero or a coyote tip-toes through the brush.
Then, where there was once nothing a huge drop-tined buck materializes from the brush. Cautiously he surveys the tranquil world he lives as he silently steps out from the white-brush and cactus to be bathed in the golden glow of the afternoon light.
Popular Texas artist Brian Grimm observed such a scene on a friends ranch out of Cotulla and "La Gran Sombra", "The Great Shadow" was captured on canvas. It can happen so suddenly that the sight seems to freeze that moment in time.
For more information on "La Gran Sombra" and other fine works of art or commissions by Brian Grimm, visit www.briangrimmart.com, email BrianGrimmArt@gmail.com or call (830) 456-6809. — Bill L. Olson.