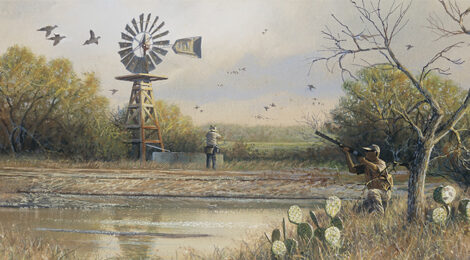 Popular Texas artist John Dearman has painted an iconic dove hunting scene around a ranch windmill.  His "Dove 2008" is as accurate and applicable today as it was when first painted.  In fact scenes like this are timeless.
Water is the saving liquid for both terrestrial game and game birds.  In times of drought these wet resources become limited and concentrate all to wherever water is available.
On most ranches it may come in the form of live water creeks, springs, rivers stock tanks or water troughs.  Then there is the iconic windmill that utilizes wind power to turn the turban fan that lifts the sucker-rod to pull groundwater to the surface and help keep water levels at usable levels
The water lifted runs into or is collected in small earthen catch tanks or concrete troughs.  These watery oasis are a boon for dove hunters and later in the year deer hunters.
Dove hunters will set up close knowing dove will fly in to stock tanks to not only drink but also picks up small pieces of gravel for their craw.  Dove use this grit to aid in the digestion of seeds they have eaten.
The shooting around windmills can be fast and exciting as hunters' heads will be on a swivel tracking mourning and white-winged dove that swarm these water sources late in the afternoon.  Not only is great shooting enjoyed, but being in close proximity to other hunters the hits and misses are a part of the social gathering.
For more information on "Dove 2008" or John Dearman's voluminous portfolio of original fine art and print images contact Cletus Dodd at The Kipling Company by email at cpd2gbpllc.com or call (713) 542-4944. — Bill L. Olson
************************************************************************
To read more, click here to SUBSCRIBE