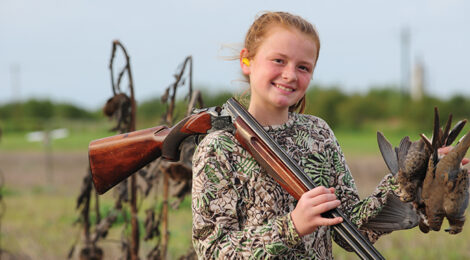 At least eight different species of dove and pigeon call Texas home but not all are legal to shoot.
Story and photography by Bob Zaiglin
It was a quiescent October evening as I negotiated my open cab CJ-7 to one of the windmills on a Dimmit County ranch to bag a few mourning dove.  Approaching the mill that sultry evening, I spotted several white-wing dove circling what I thought was a dry pond north of the mill.  Out of curiosity, I entered the thorn scrub to check out what attracted the birds.  Upon my arrival at the pond, I was surprised to see a little water remaining in it, but my overt approach irritated the few white-wings that were staging in the surrounding trees, and failed to get a shot off before they flew.
The secluded tank, inundated by bluish-green-colored algae, was shaded by tall, vibrant green huisache trees that limited my visibility.
While awaiting the white-wings' return under the tallest huisache tree, I was entertained by the pond's local visitors coming in for a drink of the life-saving liquid.  Several pyroloxia arrived initially and I watched the desert cardinals flicker from one branch to another through the maze of huisache before descending to the sunbaked white shoreline for a quick drink before returning to the underbrush, only to be heard cheerfully singing like their cousins, the northern cardinal, just out of my sight.
************************************************************************
To read more, click here to SUBSCRIBE