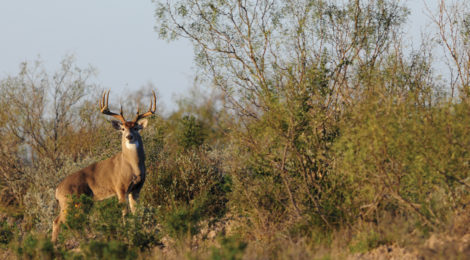 Correctly estimating the age of a buck parallels the opportunities to observe deer.
Story and Photography by Bob Zaiglin
With favorable weather conditions this past spring complemented by three straight years of adequate rainfall, Texas deer hunters should see some outstanding bucks this season. In order to capitalize, sportsmen must avoid the common pitfall of harvesting a good-looking youngster early in the season.
Antler size is primarily a byproduct of diet and time. Hunters are cognizant of these requirements, but often fail to understand that patience is the ultimate ingredient to realizing an exceptional hunting season. In other words, unless extremely lucky, ones opportunity to see, let alone harvest an exceptional buck doesn't normally materialize until late in the season. This is when those older, bucks exhibiting exceptional racks, at least in South Texas, become vulnerable as they initiate their search for receptive does.
As a result, sportsmen wade through the early part of the season looking at a considerable number of immature naive bucks that have yet to reach their maximum antler-growing years. Allowing those youngsters to walk may not be difficult for the experienced hunter, but for those just acquiring the opportunity to hunt on quality deer turf, it can be a traumatic experience.
Passing over a yearling or two-year-old male is not a problem, but a genetically fortified three-year-old can make even discretionary hunters a little antsy. And should an outstanding four-year-old show up, it's extremely hard to control that itchy trigger finger.
One method of circumventing this problem is to review the harvest statistics collected over the last few hunting seasons. By doing so, one can get a numerical reference as to the caliber of deer that inhabit the property.