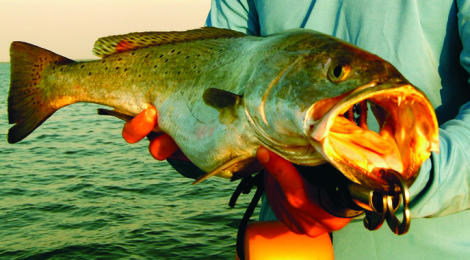 Combine optimum feeding time with the right location will consistently catch trophy speckled trout and sometimes a Winner.
Story and Photography by Nate Skinner
"It could be pretty good," came the words from the other end of the line. "The weather looks to be settling down, and some solid fish have been showing on some grass flats on the edge of the channel when the tide is right." The optimism in the voice of Captain Allen Sifford of Fish On Guide Service, had me feeling a little bit better about my road trip south, which found me leaving my home upper-coast waters in the rearview with thunderstorms overhead.
Fast-forward about 12 hours and a 6 mile boat ride across the Laguna Madre, and there I was, on the bow of Sifford's Haynie casting one of my favorite topwater plugs. Walking the bait over the edge of a grass bed that extended some 15 yards out from the bank, forming a point, I paused the bait for a second, maybe two at the most. That's when the fish hit.
Similar to the flushing of a commode, the surface of the water where the bait once floated just seconds before, turned over on itself as the plastic fake was slurped down. At first I just thought it was an average sized speck, but soon the pulls on the drag proved otherwise. A giant yellow mouth came thrashing to the surface, foaming full of aggression as violent head shakes sprayed salt water into the air. The first time she surfaced at the boat it was clear she was heavy, and the plug she inhaled could barely be seen, the nose of it sticking out from her toothy grin.
Putting net to scales, the beast was landed and Sifford high fived me as the photo shoots began. "That's what it's all about," he said. "Putting the right location with the right time — then all that's left to do is fish!"
As summer kicks off, Texas coastal anglers find themselves smack dab in the middle of two very important events; in the heat of the peak spawning period for speckled trout, and in the early stages of one of the largest coastal tournaments in the Lone Star State, Coastal Conservation Association's S.T.A.R Tournament. Although they are two entirely different things, these events have one thing in common — monster trout.