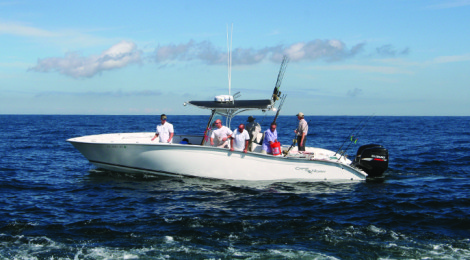 Gulf of Mexico currents are warm and full of a variety of line stretching fish.
By Robert Sloan
For many of us the first run offshore is in June, and more often than not it's among the best we'll make throughout the summer months. Right about now offshore currents are warm and full of a variety of line stretching fish from big king mackerel to yellow fin tuna.
The most dependable bite you can find offshore this month comes from the silver rockets, best known as king mackerel. These fish are abundant and can be caught just about anywhere along the entire Texas coast from the mouth of the jetties and on out to 50-plus miles offshore. The unique thing about a king mackerel is that this hard fighting game fish will smack live or dead baits, as well as an assortment of lures.
Some of the best action on big kings can be found on the upper Texas coast from the Sabine jetties to Galveston. One reason for the numbers of kings caught here each June is due to the huge schools of pogies that can found anywhere from 1 to 15 miles offshore. King mackerel love to chow down on oily pogies.
Last summer I fished a group of rigs located a few miles off the beach front at Sea Rim State Park, just west of Sabine Pass. We were actually working jigs around the rigs for triple tails when we noticed that a school of pogies had surfaced and kings were ripping through them. We rigged up with Bomber Bug Eye Duster king rigs and set up for a troll through the pogies. On our first run both rods doubled over and the fight was on. Both of those kings were in the 30 pound class – the type of fish that can make blistering runs.
Trolling around rigs is always a good thing. When the water is green and clear it's almost a sure bet that kings will be feeding around the many oil and gas production platforms.
Another hard fighting and very tasty fish that is structure oriented is a ling, a.k.a. cobia. They can be found around rigs, over wrecks and even along the jetties. But one thing that is often overlooked are the buoys that mark the shipping lanes. These buoys are abundant up and down the Texas coast and are about the size of a VW. These buoys attract baitfish and in turn ling. Years ago I learned to never pass up a buoy. You never know what's going to be lurking nearby.
The typical drill for fishing a buoy is to idle by with one or two anglers on point for pitching rigged baits to any ling that show up from the depths. One of the best rigs you can use around the buoys is some sort of a jig/dead bait combo. Or another option is an 8-inch Bomber Jig and Eel in white or chartreuse. This is an easy bait to fish shallow or deep. It' can be quickly pitched or cast to visible ling.