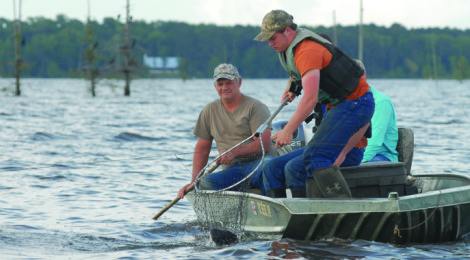 Three Top Catfish pros offer 15 tips to help fishermen increase their catch.
Story and Photography by Mat Williams
They call this passive fishing, but for the life of me I can't find anything laid back about it. I've just returned home from a weekend of running trotlines with my good friends Charlie Shively and M.Q. Williams and my energetic juices are spent. Not surprisingly, so is all of the spare freezer space I had before I left. I've been visiting Bill's Landing on Toledo Bend Reservoir since the early 1990s. Not once have I ever returned home from a trotlining trip without a big mess of fresh filets to show for my time.
If there is such a thing as a catfish factory, then Toledo Bend would have to be it. Located along the Texas/Louisiana border, the 181,000-acre reservoir maintains what is sure to be one of the most robust catfish fisheries in the southern United States.
The lake produces its share of channel cat, but it is the blues and flatheads that make guys like Shively, Ed Snelson and Dan Sestak tick. All three men are as hardcore as you will find when it comes to their catfishing. I recently caught up with the three trotline pros and asked them to share some tips to help novice or beginning linesmen get a little more bang for there buck. Here are 15 tips trotliners everywhere can use to put more catfish in their freezers:
ANGLER: Charlie Shively — Occupation: Bill's Landing Camp Owner, Commercial Fisherman
Tip 1: Use Sharp Hooks — Shively says trotline hooks undergo a tremendous amount of abuse. The hook points will dull over time. Making sure hook points are needle sharp will provide better hook penetration when a fish takes the bait. "If a hook gets dull or bent, sharpen it or replace it altogether," Shively says.
Tip 2: Build a Stout Line — If you are trotlining in waters known to produce numbers of large fish, be sure to build a heavy duty line made from quality materials. Shively always builds his main lines from No. 96 tarred nylon, which is about 600-pound test. "The bigger line makes it easier on your hands when you go to run or bait the trotline. Plus, it is stout enough that you can tie onto it with the boat and pull it free without breaking it if you happen to get hung up."
Tip 3: Use Fresh Bait — Shively always makes sure that his bait is fresh as possible, whether he is using live or cut bait.
"If you're using live perch, do everything you can to keep them lively. You don't want your live bait to be half sick when you put it on the hook," he said.