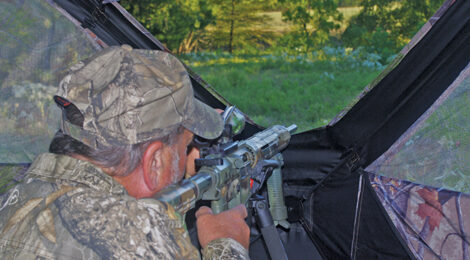 Story by Bill L. Olson
Texas is huge with diverse terrain that can have a bearing on animal travel patterns and corridors. The topography across the Lone Star State varies from coastal prairies to hardwood bottoms of East Texas, south Texas brush country, rolling and high plains to rugged cedar covered Hill Country.
Additionally the peak of rut can vary from one region to another. The accompanying sidebar provides a range of dates for each region compiled from a three year Texas Parks and Wildlife study conducted in 1996 on the whitetail rut.
Then factor in climatic variables or changes in calendar events like moon phases. The reality is no light switch exists to timing the rut or even duration of the phases of the rut.
The one certainty each year is the dates established for the general whitetail deer seasons. The North Texas season opens November 6 and runs through January 2, 2022. The South Texas general season dates are November 6 through January 16, 2022.
The following is information and things to consider, compile, and evaluate to formulate a hunt strategy specific for the region being hunted, plus time of the season being hunted. Through the course of the season additional "educated" adjustments may be made for unforeseen climatic or other changes.
Pre-hunt Planning
Planning and compiling information starts long before sunrise on opening morning. An assumption is made that preseason scouting has already been done or is a part of your plan.
A pre-hunt checklist is a written reminder-list of needed gear taken to the stand or on a hunt. Keep this list filed away as over time it will be updated and modified based on experience or the type of hunting done. Logistics play a much larger role than many hunters give it credit.
How, When and Where To Hunt
Many will simply return to an area or blind hunted before. It may overlook a feeder or food plot and the hunter will spend a predetermined time sitting in the blind, overlooking the temptations offered to attract deer. "I'll pick you up about 10:00," are too familiar parting words when dropped off in the predawn darkness at the blind.
Another consideration is how are you going to hunt? Mornings and afternoons, or do you have the stamina to go hardcore depending upon what planning outlined and future adjustments based on a variety of potential future changes.
Successful hunters dedicate the time and are in the field in order to be successful. There are no clocks, calendars, or other manmade factors. Hunts take place for wild critters in wild places they know from making a living there every day of their life.
Review the solunar table and moon phase found in this magazine before each hunt. The major feeding period for each day of the month is shown. Also 12 hours ahead and 12 hours after this peak period is a minor feeding period. There are a variety of reasons as to what motivates individual deer to move and feed. It's a progression that begins with activity by a few, builds toward the time when a majority of the herd is feeding and then tapers off.
Plus don't overlook the midday hours following days influenced by a full moon at night. Additionally less activity on the lease or hunting ground during the middle of the day when everyone is back at camp may also entice deer to move at that time.
A good suggestion from ranchers and those that work the land on a daily basis is to watch cattle and other livestock. If they are up and moving there's a good chance deer will also be moving.
Depending upon the phase of the rut, hunt where the doe hang out. The rut is the primary motivation for buck movement this time of year. They will regularly come to where doe and fawn congregate to check for females in estrus or coming into estrus. Doe are the best natural "decoys" available.
To find the doe, particularly early in the season, look for available natural forage. This includes mast crop, fall forbs and then food plots or deer feeders.
Stay Vigilant in the Blind
Most permanent blind locations are set and hunters fixate on the deer feeder. Some blinds are placed where two senderos cross or just off the top of a hillside with a draw or lots of country out each window. With the last two examples hunters are at least periodically watching all four sides around the blind.
Whether watching a feeder, senderos, or vast expanse of terrain there is a lot of additional country to observe. This is where glassing and removing layers of brush to see what is going on beyond normal eyesight becomes beneficial.
Glass to see what is moving behind the visible brush. Adjust the focus on binoculars to remove focus-layers to see deeper into the brush. Look for horizontal lines that indicate something out of the ordinary in a world made up of vertical images. Look for parts of a deer like an ear, back, fore or hind leg and maybe even a flash of sunlight off a polished antler tip.
From a blind use a larger objective and higher power binocular mounted on a tripod. When hunting from a fixed blind I have added a Vortex Razor UHD 10 x 50 binocular mounted on a lightweight Vortex Summit Carbon Fiber tripod using Vortex's PRO Binocular Adapter. Being able to have both eyes open and not having to support the weight of the binocular makes glassing more comfortable and efficient.
When doe, fawns or subordinate bucks show up to browse watch their body language. Sometimes they will alert when they see or sense something they spot or smell off in the brush. Use those additional eyes to your benefit.
Also don't give up when a little inclement weather moves in. Pre-front and post-front conditions offer benefits to hunters and stimulate deer activity. One of the best times to hunt, and when deer seem to move well, is during a light mist or drizzling rain.
Wind and fog offer other benefits to mask hunter movement and scent. Relocating to take advantage of a down wind position from an area being observed may be an appropriate temporary move until the weather settles and wind returns to a prevailing direction.
Sometime during the day Mother Nature is going to call. I tend to be cautious and suspicious of introducing anything foreign to an area. To take care of business, carry a plastic bottle with a screw on top to urinate in. Then pack it out and empty it outside of the hunt area.
Taking The Shot
In advance of this moment some pre-shot practice from inside the blind is in order. Check window openings, using a saddle sandbag on box blind windowsill or shooting sticks from inside of a pop-up blind.
When good planning and a little luck come together it is time to take the shot. Control the surge of adrenaline, focus on the job at hand, take a rest, and control your breathing. Then s-q-u-e-e-z-e that trigger while laser focused on the point of aim and impact. This is when the practice at the gun range brings that confidence of you and your rifle being able to do the job.
There are more opportunities for lessons to be learned that come from time in preparation and spent in the field. It is why whitetail deer are the Number One big game animal in Texas and why so many hunters spend so much time and effort in their pursuit of a memorable buck.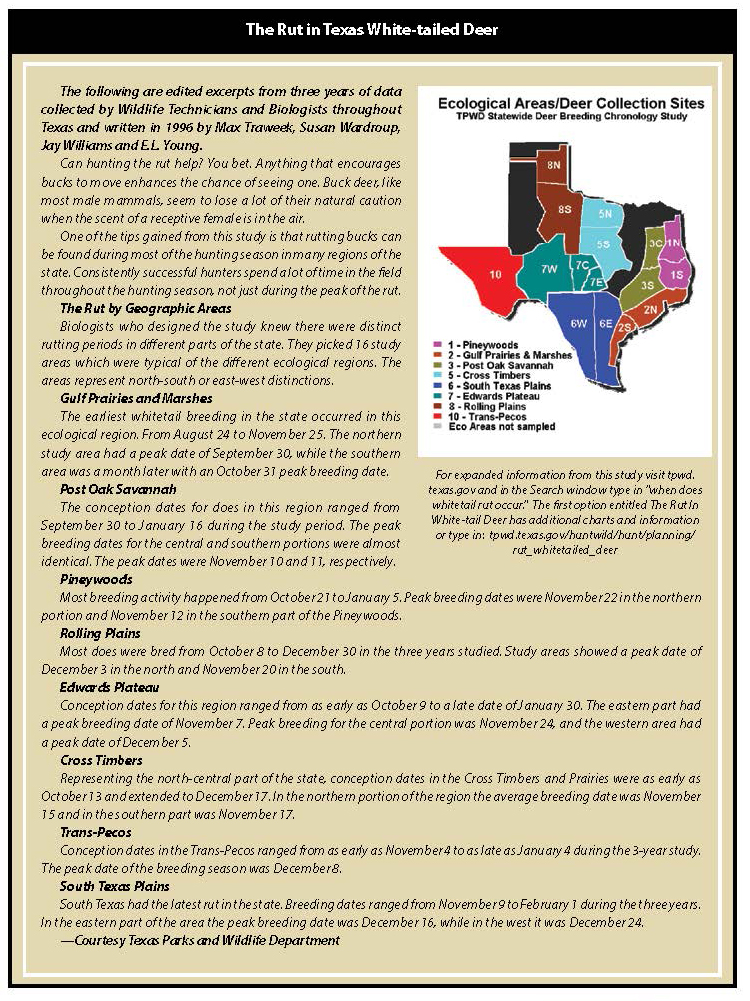 ************************************************************************
If you want to read more great articles like this one , click here to SUBSCRIBE